Transportable Telescopic Mast Systems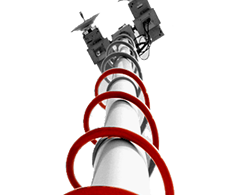 Transportable telescopic mast systems, equipped with
lightweight masts to address user demands
Mast Systems Requiring no Power Source in Emergencies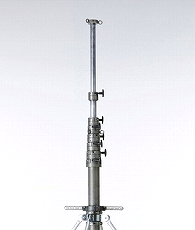 Transportable telescopic mast systems with use capabilities extending to disaster radio and emergency base stations.
"Light in weight, smooth in extension" Our transportable telescopic mast systems built to meet user demands. Based primarily on the pneumatic method, with easy extension by foot pump or other means.
With tetrapod stands or tire tramping stands adopted as the installation method, a product adaptable to wide-ranging uses. Telescopic mast systems geared to use in wide-ranging locations is yet another hallmark of YUASA excellence.
[Lightweight Mounting Use] "TPM Mast Series" Transportable Pneumatic Telescopic Masts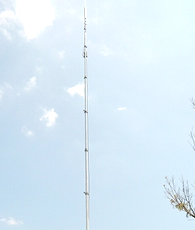 Our "TPM Mast Series" of transportable telescopic mast systems, designed to excel in disaster radio, emergency base stations and other applications. Being lightweight makes it possible for single workers to transport, assemble and install the systems.
Locking use handle screws are supplied as standard equipment at each mast level, a structure to prevent mast descent even during extended use. These systems excel in versatility, and in addition to antenna can also be mounted with cameras, noise meters and numerous other applications.
Use examples: Emergency base stations, aerial cameras, wireless antennas, construction machinery noise meters
Mountable with equipment up to approx. 10kg in weight
[Heavyweight Mounting Use] "NH/NK Mast Series" Transportable Pneumatic Telescopic Masts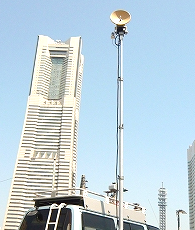 Our "NH/NK Mast Series" of transportable telescopic mast systems ? products designed for excellent transportability and airborne attachment of heavy objects. These masts may be mounted with transmission use field pickup units (FPU), high-performance cameras and other sophisticated equipment.
With tire-tramping stands easy to assemble, the products in this series are built for emergency use as well.
Maximum mast extension of 5 to 11 meters - enhancing mast selection for specific applications.
Use examples: Transmission, monitoring cameras, communications devices, containers.
Mountable with equipment up to approx. 20kg in weight
Glass Fiber Manual Telescopic Masts (GRP mast series)

Our line of manual masts produced from glass fiber, excelling in corrosion resistance, insulation and other key properties. The masts themselves are extremely lightweight, facilitating manual raising and lowering. Safety-lock mechanisms placed at each mast level reduce the risk of hands becoming entangled, with the top priority of these masts placed on user-friendliness. As installation methods, the masts are fully equipped with tire-tramping stands and tetrapod stands.