Hydraulic Cylinder
Globally Esteemed YUASA Specially Shaped Cylinders
YUASA hydraulic cylinders are widely used in construction machinery, filter presses, injection-molding machines, home elevators and other applications.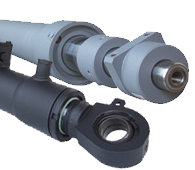 YUASA hydraulic machinery - the fruits of technology and experience cultivated over the years.
Our hydraulic cylinders are esteemed for global-class quality in Japan and around the world.
The company's hydraulic cylinder development and manufacturing technology now shines in uses spanning telescopic masts, domestic and overseas construction machinery, industrial machinery, broadcasting machinery and the housing equipment industry (home elevators, etc.).
From the development stage on, we team up with customers to address the most detailed demands for hydraulic cylinders.
We feel confident this stance provides the key to bringing superb hydraulic cylinder products to market.
Overview
Design and manufacture possible from trial through mass-production,
Cylinder tube internal surface plating available.
Close consultations with customers from the development stage on.
Production also possible of items outside of shared specs (depending on content), with particularly expertise in long cylinders.
YUASA possible specification of hydraulic cylinder
Tube bore:Max φ600mm
Stroke(Single-Stage):Max 9,000mm
Stroke(Multi-Stage):Max 22,000mm
Normal use pressure:Max 35MPa
Hydrostatic test pressure:Max 70MPa
YUASA Two-Stage Telescopic Cylinder Purchases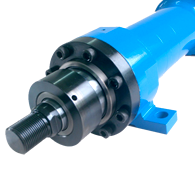 Our general-purpose use two-stage telescopic cylinders.
Six different support types provided to satisfy exact spec uses.
While stroke also differs by model, our stroke range extends from 500mm to 3,100mm.
Port and air vent positions may also be chosen.
YUASA Two-Stage Telescopic Cylinder Photo Gallery