Telescopic Mast Systems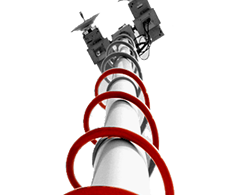 Original Telescopic Mast System
YUASA Quality ? Taking the World by Storm
YUASA Telescopic Mast Systems Shine in a Rich Range of Applications
Telescopic masts manifest their true might in keeping crucial equipment airborne.
Hydraulic telescopic mast systems, featuring application of YUASA's impressive hydraulic technology, utilize hydraulic drive for smooth and stable raising and lowering. Instilled with know-how stemming from the development and manufacture of products tailored to customer needs, YUASA supplies a rich range of applications enabling selection for specific use environments.
The extensive introduction of these systems includes their use at broadcasting stations as transmission supports, at telecom companies as mobile base station antenna elevator telescopic masts, at government offices as LED floodlights and other examples.
Through the adoption of pneumatic telescopic masts, YUASA products with lightweight designs geared for excellent portability are widely adopted by telecom companies, electric power companies and electrical measurement instrument manufacturers.
"Craftsmanship steeped in trust from the user's standpoint." Taking great pride in hydraulic telescopic mast systems as YUASA originals, we supply these products to the market.