Standard type mast system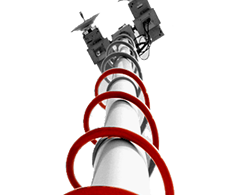 Backed by diversified applications serving different use environments,
the operability of telescopic masts has been dramatically expanded.
Telescopic Mast Systems Responding to Wide-Ranging Applications
YUASA explores operational methods that utilize the reliability of hydraulic telescopic masts, and then tenders creative proposals.
Examples of these advances include fixed-point observation camera use telescopic masts taking full advantage of superb wind resistance, as well as stationary telescopic mast systems used to operate emergency use communications base stations.
These systems are also utilized where height restrictions are enforced in zones with scenic landscapes.
In this way, we work with customers to configure our telescopic mast systems with multi-purpose capacity responding to various uses. We encourage you to explore the outstanding utility of the YUASA original brand.
General-Purpose Telescopic Mast System Profile
General-purpose telescopic mast systems may be broadly grouped into four main components: The mast itself, the hydraulic unit, hydraulic tank and remote controller.
The systems adopt specifications for simple mast raising and lowering with the remote controller.
The ability to mount lights, measurement instruments, communication devices, fixed-point observation cameras and other attachments on the masts to satisfy specific use needs.