Precision Machining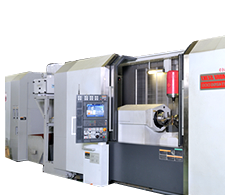 Precision machining of a wide array of materials.
Realizing true micron-order precision.
Eccentric shafts, corrugated rolls (corrugator), aircraft parts and other examples of YUASA precision machining.

Mobilizing technology developed through crankshafts over the years, we are capable of precision machining of most all types of materials.
Precision, moreover, is realized at the micron level.
Our impressive machine lineup and advanced technology administered by richly experienced staffers are applied to numerous different industries, effectively spearheading new machining of aircraft parts and other products.
Long products comprise a YUASA specialty field utilizing our extensive experience. We offer machining, grinding and finish processing of 4,000mm and below.
Responses are also mounted to small specially shaped parts with outstanding speed and precision.
Printing machine components
Corrugated rolls
Special precision components